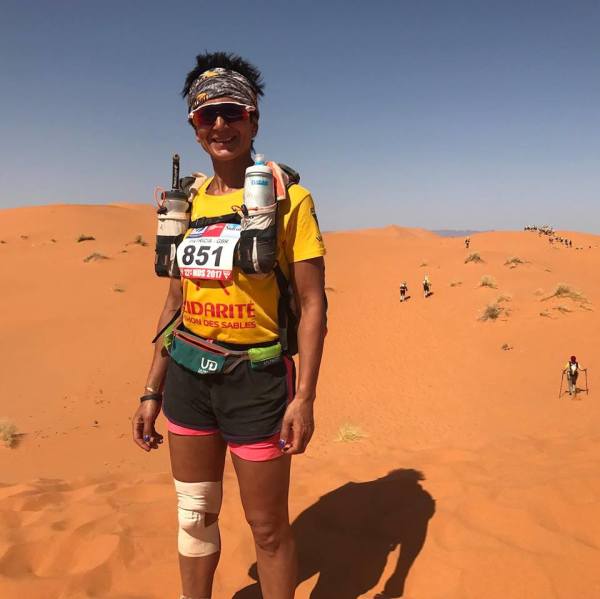 Hi Tish! Thankyou so much for having a chat with me. We met briefly in the Sahara desert in 2017 but as we weren't tent mates, could you just introduce yourself?



Hi Scott, yes that was one amazing experience! Well I'm first and foremost a Granny, to a wonderful 9yr old, Marley, she is my inspiration and has been since before she was born. That obviously makes me a Mum too, to Jasmine, 31, and I also have 3 step children, Megan and Tyler who are almost 18 and Logan, almost 16. I have a busy career as a Programme Director in Transformation, for a Credit Management company, which brings
with it lots of European travel. I'm almost 50 and live in Otley, West Yorkshire with my 2 amazing flat coat retrievers Pluto and Cosmo.




 

​​

It would seem that unlike me you enjoy running! Has that always been the case? 

Yes, but it's as much running, as being lost in nature. I enjoyed it as a youngster, and was pretty good in school, loving cross country and long distance track. I had my daughter young, at 18 and I was frankly too busy with working, studying part time and managing as a single parent most of the time. I often turned back to it in times of real difficultly though. I think it's in my blood, as my dad was a runner and my sister is an excellent runner. As I approached 40 I realised I had to do something to get fit and that's when I started running again. I struggled around my first half marathon and was so elated I looked up the most difficult marathon I could find - and entered it. Six months later I came 8th in the Inca trail Marathon. I had a few years where I got fit for a marathon then went crazy again, "roller coaster living" I call it.
 It was just after my step dad died that I realised I had to stop wasting my life and make a step change. I was drinking too much, working too much and generally out of control and unhappy. So I decided to take control of my life, using the process of running as the conduit. That was January 2016 and I entered the Great Wall marathon, the next hardest I could find. A couple of months later, whilst still struggling to run 30k, I entered the MDS for the following year. I knew I could finish a marathon, and improving speed wasn't motivating, it had to be something out of my comfort zone. MDS was the perfect choice as it seemed so unattainable. 
So Its the process I love, not the end goal. I love the fact that it makes me focus and I regain control of my life. That's why run the world and run Europe is so perfect...longest process I could think of 😁
It's only very recently that I've started to relax more when I'm running, and not worry about my pace or what people think. I use it as mediation and try to connect nature and myself as I go.


Those incredibly tough races show that you're a very accomplished runner. With a top third finish- and the 42nd woman to cross the line- the mds was a great success. But you almost didn't make the start line, did you?

I'm not a great runner. I'm very slow and yes coming 8th in Inca trail and 42nd female in Mds sounds good, in truth I ran /walked them. I'm not that fit and run / walk most of the time, and just keep going. Luckily I recover very well, and am energised by running - I believe and I do.
I'd only just starting training for Mds when I found out I'd got a stress fracture in my foot. I'd gone from doing nothing in January to  the bare minimum to get me through the Great Wall in May and then suddenly ramped up to 70m weeks with lots of fell running and rocky steps. I'd got the wrong footwear too and I got a serious fracture of my navicular. I had to deal with the fact that I might never run again.
All in all it was 20wks of not running, from the August before MDS in April. To make matters worse I'd just quit smoking and drinking and running was what was keeping me off the booze and cigs. It was an incredible mental struggle to stay off them but also to still believe in myself enough not to give up on MDS. I slowly jogged 5k on Christmas Day for the first time since August and then had to ramp up very slowly. I kept getting injured as my muscles were all imbalanced and had wasted away as I was on crutches for so long.



So this procedure really could save the careers of a great many runners! You now run under the moniker 'Granny Tish' - which I love by the way- and had entered the MDS this year. How did that go? Was it a different experience?

Absolutely and I'd definitely recommend the surgeon I had- Nick Harris at the Spire in Leeds, he understands athletes having been a former rugby player, without him I wouldn't be running now and certainly would not have done Mds. I'd recommend the surgery to anyone with similar, I have a couple of small screws which I can't feel and I'm back to 60-70 mile weeks with no issues.

Thanks I'm glad you like it. It was my granddaughter that asked me to sign my blogs Granny Tish. I'll never forget the time she ran across a restaurant when she saw me, and launched herself across the room, into the air to my arms shouting "Granny". It was one of my happiest moments. It was her imminent birth as I approached 40 that was the catalyst for me to get healthy and show  there was another way to live. A way to enjoy life, without alcohol always being the focus.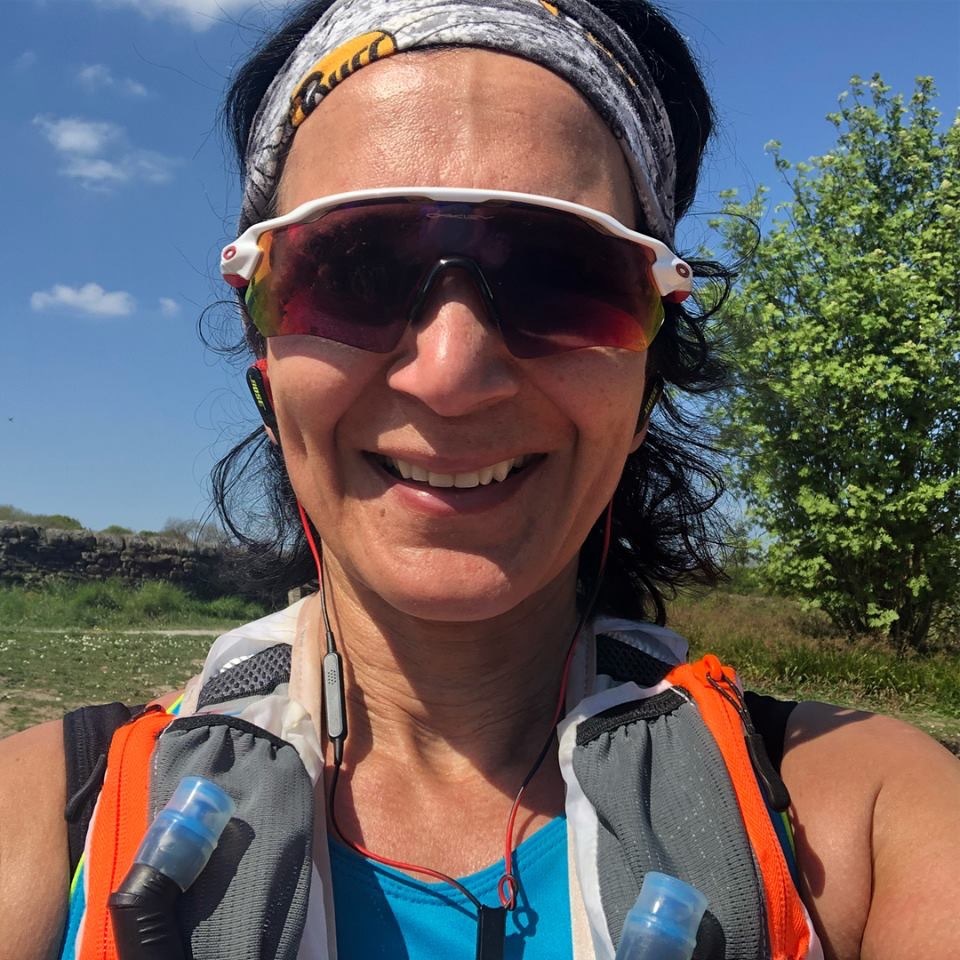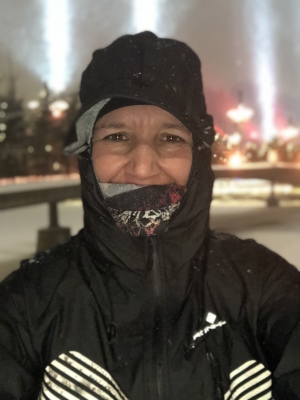 But you've got your eyes set on something much bigger now haven't you

?


Yes indeed. When I got back from Mds I had the usual "what now?" All those I'd met and my new ultra running community were entering all sorts of races, but none of them appealed. Although I loved Mds, to be honest I ran alone, and it was the experience of being alone in nature, at one with myself and the earth that I loved. Im not a very sociable runner, I suppose that's just because I'm still working things through myself and I use running to do that. I'm also not very confident running with others, I compare myself too much, so alone I can just do my thing and it removes the stress.
 So one day last summer, I looked down at my tshirt and read the words run the world. I instantly pulled the car over to google it. I realised it was possible and decided there and then I was going to do it. I started my run the world blog that afternoon. I had no clue how or when but I knew it was going to change my life. I'd found the ultimate challenge that would keep me going for a few years at least. I thought it would take a couple of years to plan. However I'm impatient and ended up carving it up. I figured I might not be here in two years so why not start now?! So this year I'm finishing crossing Europe: Netherlands to the Baltic and Latvia and Estonia - around 2000k.
Wow! What an undertaking! I know that you use running as a way of finding that balance between a busy career and family life. How do you see this monumental challenge fitting in with these?



I've been lucky to get work to agree to six weeks unpaid leave which obviously helps massively. It also means I still get to spend time with family in my regular holidays. My children are grown up too, so it makes life a lot easier. I've found it much easier to find balance by running and cutting out self destructive behaviour, it's amazing how much more time I have as a result. 



What will we find in your backpack for the run?



As little as possible! I'm back to gram counting like I was pre MDS! I don't want my bag over 8kg and that now needs to include a tent! There will be one change of clothes, and camp outfit including down jacket, cut down tooth brush, coconut oil, mosquito repellent and sun protection. I'll have an iPhone for camera and internet access and inReach explorer for emergencies. About 3 days of food, down sleeping bag and ultra light tent. 


​
Where are you looking forward to running the most?



I'm looking forward to reaching the Baltic Sea and realising I've run across Europe .. all the way from Schiphol, 20k from the North Sea to the Baltic, anything after that will really be a bonus. I've never been to Poland, Latvia, Estonia or Kazakistan so they will all be very exciting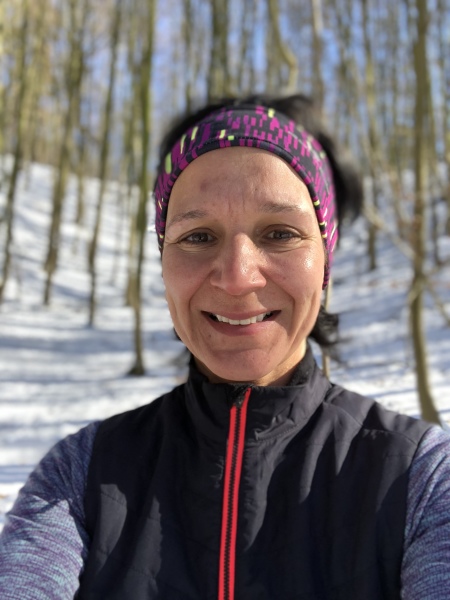 ​​
If you had to have a running buddy, who would that be and why?
That's a very difficult question to answer honestly. I've always preferred running alone, as I lose myself and get energised more from nature than people. But if it was someone who understood that and worked in a similar way, that would be amazing on such a long run. I've no doubt it will be lonely running alone for 6wks, especially when I'm cold, tired and hungry at night. I'll really miss running and cuddling with my dogs too.


Do you have any go to music for long distance running? 


I used to always listen to music but at MDS having downloaded loads, I found I listened mainly to one album by Richard Ashcroft, these people. It's because it was the album that I'd listened too as I was going through the transformation pre MDS. I try to focus on my breathing too and tune in with my body and nature. However it's a long way and I'll definitely have some music which will include some classical music and, for me a new discovery some music by a guy called John Butler, including Ocean.
What tips do you have for anyone who;

A) Struggles to find the time to exercise because of a busy life?

Wake up earlier and go to bed earlier. Simple. I often get up at 3am, or 4 today, to fit stuff in. It's  more productive to have a power nap when you need it and then go to bed when you're tired. There's a lot of wasted time in evenings when we are tired.. if we just went to bed then we'd find a lot more time in the day. 


B) Who is setting out on their first steps into running?
Do your own thing, take advice, but don't stress about it. Running is the most natural thing, just take it easy and run a bit, walk a bit, don't forget to breath and relax. The best thing I did was to get natural fit shoes that let my feet do the work, with cushioning for long distance now, but minimal support. And if you have injuries go and learn chi running. It will ensure you use your body properly and break any bad posture habits that cause most injuries.


C) To the runners who are stepping up from marathons to ultras?


I'm not really an ultra runner or a marathon runner. I just love being outside and running when I feel like it. I'd say don't think about what those titles mean, just believe in yourself- you can achieve anything if you focus. But listen mostly to your gut instinct and your body, increase miles slowly obeying the 10% rule, it's common sense and the only sustainable way to increase and avoid injury.
Finally, where or who do you draw inspiration from?
Marley, my granddaughter who I absolutely adore is my ultimate inspiration, but so is my daughter, Jasmine and my step children. I feel closest to the people I love when I'm running which might sound strange, but memories of moments with them keeps me going. I want to show them anything is possible.

For run Europe it's also about me Inspiring women who have been abused. I'm a survivor and I want to remove the shame about domestic violence that a third of all women experience. It's shocking and we have to change it. The only way is by talking about it, helping women to know they don't need to feel ashamed and can ask for help. I'm raising money for women's aid 
https://www.justgiving.com/fundraising/grannyrunstheworld18

And you can follow the journey on instagram
@grannytish
and
www.Facebook.com/
grannyrunstheworl
d
or follow my blog on 
www.runtheworld.live
Thankyou so much for taking the time to share your experiences and dreams. I cannot wait to follow your adventure and wish you the best of luck! Go smash it!
Thank you Scott, and good luck in your next adventure it sounds awesome !